Today Match Prediction Chennai Super Kings vs Royal Challengers Bangalore is our latest prediction. The 24th match of IPL 2018 will be played today at M Chinnaswamy Stadium Bengaluru at 8:00 pm IST. Today Match Prediction Chennai Super Kings vs Royal Challengers Bangalore, our prediction team will share latest views about the match 24.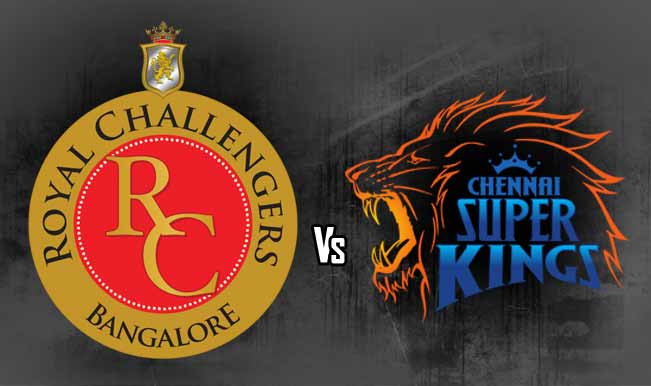 Royal Challenger Bangalore is at 5th spot today on the points table and Chennai Super Kings is at 2nd spot.Super Kings will fight for the top position however, Royal Challengers are looking for an uplift in ranking.
Today Match Prediction Chennai Super Kings vs Royal Challengers Bangalore
Sharing some views about the performance of both teams, Royal Challengers Bangalore's batting order is struggling except Ab de Villiers and Virat Kohli.
Ab de Villiers smashed unbeaten 90 against Delhi Daredevils and a 57 against King XI Punjab to lead his team toward victory.
While Chennai Super Kings batting line-up is lightening light a supermoon in the IPL 2018. They have four different match winners in their last 4 wins out of 5 matches in this IPL.
During the early season, it was looking like that Kings are bowling specialist side but now they have shown up as an eight batsmen side with a number of match winners as well. No going back to Today Match Prediction Chennai Super King vs Royal Challengers Bangalore.
Previous Results
Previously both teams have won their last matches in IPL 2018. Royal Challengers Bangalore has defeated Delhi Daredevils with a blooming inning by Ab de Villiers. While the Chennai Super Kings thrashed Sunrisers Hyderabad in a nail-biting match by 4 runs. Both the teams are best in sense of run-getter and worst in term of bowling in death overs. Delhi Daredevils smashed 57 runs in last four overs.
Chennai Super King has conceded at the average of 10.89 in depth over while they have scored at the average of 12+. While Royal Challengers have scored at 11.24 and conceded at 12.86 in this IPL.
If Chennai Super Kings Bats first:
Today Match Prediction Chennai Super Kings vs Royal challenger Bangalore predicts that if CSK bats first they will score above 190. Their batsmen can score 190+ runs on the pitch of Chinnaswamy stadium. But, the bowling line up of RCB consisting of Chahal, Umesh Yadav, Chris Woakes, Corey Anderson can restrict the batting side to a chase-able total
If Royal Challenger Bangalore Bowls First:
The Royal Challenger Bangalore is searching for a good start since the very first match. The best batting side consisting of Ab de Villiers, Vohra, Kohli, Anderson, De Kock can score big total at Bengaluru. If RCB bats first they can score 200+ in the 24th match of IPL 2018.
Check the previous result prediction of SRH vs MI here
Final Prediction
Predicting in a match like CSK vs RCB as accurate as the real result is very difficult. Both teams have strong bowling and batting line up. Now the day will decide the fate of both teams. Chennai is looking to get on top while Bangalore can also climb up to 3rd spot if they win this game.